I finally got around writing a new article for Seeking Alpha. I can't believe it has been eleven months since my last one. In this latest article I made the case for investing in Alimentation Couche-Tard, better known for operating the convenience store Circle K. It's a great business with great management. It's simple, predictive, and generates tons of free cash flow. The company is undervalued. The market discounts potential acquisitions and growth opportunities.
---
Summary
ATD is an excellent retail operator. ATD has demonstrated a record of consistency and profitability few businesses can match.
M&A is the bread and butter of ATD. They are pros at buying, integrating, extracting synergies and operating.
ATD's best opportunities have come after a difficult period.
Excellent balance sheet. Low leverage. Great cash flow.
ATD's culture contributes to its success.
Note: Alimentation Couche-Tard use US$ as their reporting currency unless mentioned otherwise. USD-CAD 1.35, Price of 1 USD in CAD.
Alimentation Couche-Tard (TSX: ATD.A, ATD.B, OTCPK: ANCUF) is primarily traded on the Toronto Stock Exchange under the ticker ATD.B.
Alimentation Couche-Tard (ATD) is a CAD$47 billion Canadian convenience store and gas operator juggernaut that's flying under the radar. ATD is the second biggest convenience store and gas station operator in the world after 7-Eleven with 14,880 locations and 133,000 employees in 26 countries. For those readers that want to polish their French,'Alimentation' stands for food and a 'couche-tard' is a night owl, a person that stays up late. The night-owl also reflects the company's personality: patient, quiet, keeping an eye on things, and when the right opportunity presents itself it is ready to strike like a predator.
Despite its global position, most people are vaguely familiar with the company. It keeps a low profile. The name Alimentation Couche-Tard, or Alain Bouchard, the co-founder and current chairman, might not ring a bell. But you probably bought something at a Circle-K, which is owned and operated by ATD across the world. Few would know that ATD is in the multi-bagger club, returning 875x since its IPO in 1984. Few Canadians would know the fact that outside financials ATD is the company with the most revenues in Canada with ~$58b in annual sales (pre-Covid). Most Canadians would be surprised to learn that Couche-Tard/Circle K is the second largest convenience store chain in the world. Only 7-Eleven Inc.(OTCPK:SVNDY)is bigger in terms of store count (~68,000, mostly franchised), but ATD has better financial performance.
ATD will release its 4 th quarter results on June 29, so we will have a better gauge on the effects of Covid in the last quarter. ATD's fiscal year ends in April.
If you get a chance to read a really good business biography, that covers co-founder Alain Bouchard and the Couche-Tard/Circle-K story, I highly recommend Daring to Succeed: Couche-Tard & Circle K Convenience Store. Read it and pass it on. You will learn more in that book about business than what you find in a standard MBA textbook.
Thesis: By investing in Alimentation Couche-Tard, you are buying a piece of an excellent business that has a history of creating shareholder value. ATD is currently undervalued by at least 13% with potential upside of 23% to 39% in 3-4 years if they complete their growth targets. ATD is currently in a plan to double the business. ATD is a buy and hold.
Below I will go in details on the company.
Over time, ATD shareholders have been well rewarded. On August 22, 1986, with only 34 stores, ATD raised $2.5m by selling 1.1m shares at $2.25 (post split: $0.046), which represented 25% of ATD at the time. Here's a chart of the returns for the past twenty years, the maximum I could get.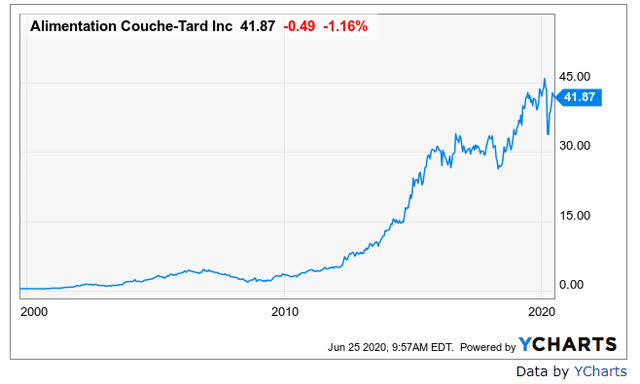 Here's a chart of the last five years compared to two indexes, which is more reflective of the current times. You can see that ATD has outperformed both the S&P 500 and the TSX 60.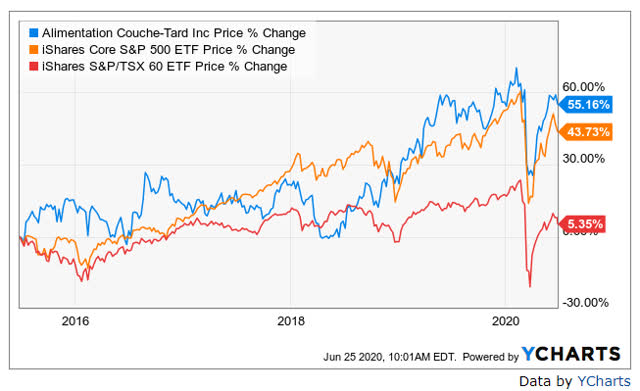 It's established that ATD has performed very well in the past. But that's yesterday returns. Now the main question is will ATD keep delivering in the future? I believe it will.
For the rest of the analysis you have to read it on Seeking Alpha.