Here's my latest research article published on Seeking Alpha. ECN Capital (ECN) is the spin-off company out of Element Financial, now called Element Fleet (ELF). ECN Capital is the smaller entity. Very often what happens when there's a spin-off, the smaller company, in this case ECN Capital, get sold. Large money pool (institutions) is responsible for the change in stock prices. Holders of the larger Element Financial received a little bit of shares of ECN and is too little to be important. Often it doesn't meet the investments parameters of the institutions (size, volume, track-record etc…) So they sell the company without even looking at it. This can pushed the stock price down for a few weeks after a spin-off. ECN is also affected by the canceled transaction with Infor. Infor is a SPAC, so it's just a company with cash looking to acquire another company. This too put downward pressure on ECN's stock price. I believe both instances are short-term issues. ECN's has an adjusted book value of $4.41. With estimated 2016 earnings coming in at $0.35-$0.40, if you apply a conservative 10x multiple, you get an implied value of $3.50 to $4.
The article is only available on Seeking Alpha here. Below is a preview.
---
ECN Capital Corp. – A Gem In The Garbage Can
By Brian Langis
Summary
ECN Capital is the spin-off company out of Element Financial. The separation as an independent company enables ECN to focus on opportunities to expand its business and enhance profitability.
ECN is undervalued and trading for garbage. ECN is worth between $3.50 and $4.41 per share.
Led by serial entrepreneur Steve Hudson, former CEO of Newcourt Credit.
ECN Capital is working on potential acquisitions.
The gap between the ECN's net asset value and its trading price is very large.
ECN Capital (OTC:ECNCF) (TSX:ECN) is primarily traded on the Toronto Stock Exchange under the ticker ECN. Since trading began on October 4, 2016, ECN has an average volume of 6.2m shares with an average daily value of $19.6m.
Note: Dollar amounts are in Canadian $ unless mentioned otherwise. USD-CAD 1.3386 Price of 1 USD in CAD as of October 28, 2016.
Background

On October 4, 2016, Element Financial Corporation started trading as two separate publicly-traded companies. Element Financial Corporation is now Element Fleet Management Corp. (TSX:EFN) (OTC:ELEEF) and ECN Capital Corp. (TSX:ECN) (OTC:ECNCF). This article will focus on the smaller spin-off company, ECN Capital. Watch ECN Capital open the Toronto Stock Exchange (YouTube).
From the October 3rd, 2016, press release:
As a result of the Separation Transaction, Element Fleet, led by Bradley Nullmeyer as CEO, has been established as the world's largest publicly traded fleet management company with approximately $18.0 billion in assets and ECN Capital, led by Steven Hudson as CEO, has been established as a leading North American commercial finance company with approximately $8.2 billion in owned and managed assets. – Source: Joint press release by ECN and EFN.
If you were an early investor in Element Financial, you have been well rewarded. Since its IPO on December 16, 2011, Element Financial has crushed the markets. See chart below.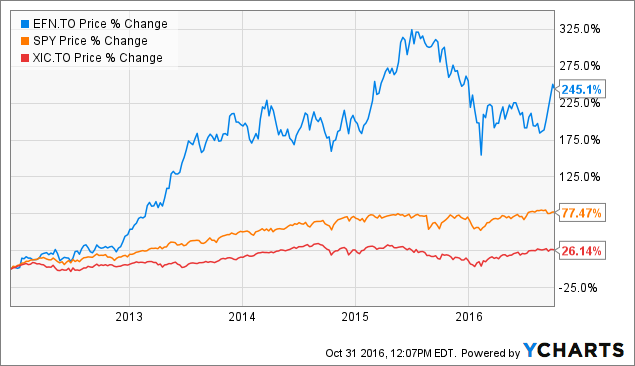 EFN data by YCharts Former name: Element Financial. Returns from December 11, 2016, the IPO, to October 3, 2016, before the spinoff of ECN Capital.
Since its IPO, Element Financial has delivered a 245% return vs 77% for S&P 500 vs 26% for the S&P/TSX Composite Index. This is a lot of success for this young company. Element went public via a reverse takeover. Element was created with an investment of $10m from Steve Hudson, the CEO, and with about $75m from private placement stock raised from high-net worth investors, including former Ontario premier Mike Harris.
Element started as a small leasing company. During the financial crisis banks were pulling back on lending. Not only that, they were putting leasing assets up for sale. Insurers and banks that wanted to return to investing in lease financing in Canada had no way to do it. A manager with experience in leasing, with relationships at banks and insurers, could buy up leasing companies and fill the gap in the market. That's when Steve Hudson and Element stepped in. Element started small and much of the growth has come from buying other companies or lines of business. Element has a history of repeatedly adding value to shareholders and that should continue with ECN Capital.
At the time of its IPO, Element had just $234m in portfolio assets and was solely based in Canada. Today, pre-split Element/ECN had $24b in assets with a large exposure to the U.S. Today, ECN Capital trades for about $2.97 a share with a market capitalization of $1.14b.
Investment Thesis
Based on my assumptions, I believe that ECN Capital is undervalued based on its net assets and fundamentals. ECN's stock took a beating following the cancellation of the INFOR (IAC.to) transaction (more details below). The transaction would have enabled ECN Capital to accelerate its growth plan following the separation. This opportunity exists because of the "post-split" sale. Usually, the smaller spin-off entity finds its way into the hands of investors who can't own it or don't really want to own it and the stock is immediately sold. Following the spinoff, ECN traded at a high of $3.47 and crashed down to below $3 following the cancellation of the transaction. The market's overreaction provides a nice opportunity to get in at $2.97. ECN will have no issues raising the capital it needs for its growth. It has done it in the past and has been tremendously successful at it. This latest news is just a bump. Once the stock recovers from the overselling and ECN executes its growth plan, ECN should rebound. A return to $3.40 provides a 14.5% return. I don't think that is farfetched.
The bigger returns for an investment in ECN rest in its long-term thesis. The split was supposed to resolve ECN's undervaluation but instead the stock has been hostage to short-term overselling resulting from the canceled transaction. ECN is an attractive business that is worth more than book value. ECN Capital will trade higher over the next year driven by accretive acquisitions and a market repricing upward of its stock. My target of $3.50 to $4.41 per share is conservative.
I assume that at 10 times 2016 estimated earnings of $0.35 to $0.40, the implied share price of ECN is between $3.50 and $4 per share. This implies an upside of 17.85% to 34.7%. This is below the estimated adjusted book value of $4.41 per share. ECN is undervalued and deserves to trade higher than the current $2.97 per share.
I think that's reasonable in light of the following considerations:
For the full article available at Seeking Alpha here.