This is my latest piece on multi-baggers. Altria Group, also referred to as Philip Morris, has been one of best performing stock ever in the last 100 years. Tobacco itself was the best performing industry from 1900 to 2000. It wasn't oil, technology, or IT. No it was tobacco. Here's an industry that didn't require any innovation or massive technology breakthrough. It's just tobacco and it has crushed any other industry. Thanks in part to its addictive nature.
Shares of Philip Morris were publicly available from 1919 but data is hard to come by. Most public website, such as Yahoo! Finance, has data going back to the 1970s. I spoke with investor relations but they couldn't help either. So I had to calculate my performance from 1970. That's reasonable holding period. It also represent a working lifetime.
The cost of one share on November 23, 1970 would have been $46.12. Since then there have been many splits. My one share would have turned into 96 shares. There was a 2 for 1 split in 1974, 1979, and 1986, a 4 for 1 split in 1989, a 3 for 1 split in 1997.
It's possible there were splits before the 1970s but the data are extremely difficult to come by. My single $46.12 share would have turned into 96 shares worth $6,145.92. This represents a 57466% change, or a 574.6-bagger in Peter Lynch's parlance. A $1,000 investment (2081.30 shares split adjusted) would have been worth $575,666.84. The yearly dividend payment would have been 5,077$, five time my original investment. Investing in Atria may not have been the most ethical choice but it would have been a financially sound decision, and more.
The full article is on Seeking Alpha and is free to read. They have the rights to it so I can't post the full piece. One of the best part are the comments. I love reading stories on how certain people have been holding to certain shares for more than 30 years and saw their investment compounded many fold. One commentator said that his shares of Altria has been in the family for almost 100 years!
---
By Brian Langis
Summary
The full corporate story of Philip Morris is complex but the outstanding performance of its stock makes it worth looking into.
Investing in Atria may not have been the most ethical choice but it would have been a financially sound decision.
How much your investment in Philip Morris Companies would be worth today is very complicated due to the number of spinoffs, mergers, splits, and IPOs.
One share of Philip Morris in 1970 is equal to 96 shares today!
$1,000 invested in 1970 would give you $5,077 in dividend payment today!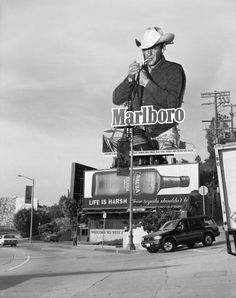 Marlboro Man, Hollywood California. Source: Arthur Grace, photographer.
I'm a big fan of history and business. I've been researching multibaggers and along the way, I've decided to write some articles. So far, the feedback has been amazing. Here are my first two articles in the multibagger series.
The best part about writing these articles are the comments. I love reading people's stories. In my previous article, one commentator suggested I write an article on Philip Morris Companies Inc., better known as Altria Group Inc. (NYSE:MO) since 2003. At first, even though I knew the tobacco industry was a money-printing machine, we don't talk about Philip Morris in the same conversation as the Facebook (NASDAQ:FB) and Netflix (NASDAQ:NFLX) of this world. That is, companies that made people very rich.
My first two articles were about two high-tech stocks that changed people's lives for the better – Apple (NASDAQ:AAPL) and Microsoft (NASDAQ:MSFT). Philip Morris' products are not known to make life better. I see a couple of reasons why the Altria Group is not lumped with the "cool" high return companies. The first reason is that the tobacco industry is boring. Second, when you think of Philip Morris, you think of big fat reliable slowly growing dividends, not an innovative company with amazing growth prospect. The suggestion to write about Philip Morris led me to research it and I liked what I saw.
Today Altria Group is a $122b market cap company with approximately $19b in revenues. The cigarette manufacturer distributes annualized dividend of $2.44 per share that provides a yield of 3.9%. The Altria Group owns 100% of Philip Morris USA, John Middleton (machine-made cigars), Philip Morris Capital Corporation (leveraged leases), U.S. Smokeless Tobacco Company, and the Ste. Michelle Wine Estates. Altria also owns 9.6% of Anheuser-Busch InBev. It's a pretty diversified group but it's mostly known for its cigarettes and its Marlboro brand.

Source: Altria Group
I bring up the dividends early on because it has been such an important contributor to its performance. Altria has increased its dividend 51 times in 48 years. Altria targets a dividend payout ratio of approximately 80% of adjusted earnings per share. The dividends have turned Altria into a dominant investment. It has been a favorite of dividend investors for a long time, as the company has consistently made healthy payouts to its shareholders. The company has provided the killer combo: the income they need and the capital appreciation they want.
Altria recently revised its guidance for 2016 full-year adjusted EPS from a range of $3.01 to $3.07 to a range of $2.98 to $3.04, representing a growth rate of 6.5% to 8.5% from a 2015 adjusted EPS base of $2.80. Altria aims to maintain its long-term financial goals of growing adjusted diluted EPS at an average annual rate of 7% to 9% and a target dividend payout ratio of approximately 80% of adjusted EPS.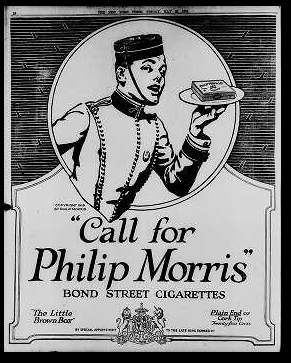 Source: New-York Times, May 23, 1919
Performance
The full corporate story of Philip Morris is complex but the outstanding performance of its stock makes it worth looking into. Determining what your initial investment in the original companies that formed the Altria Group/Philip Morris Companies would be worth today is very complicated due to the number of spinoffs, mergers, splits, and IPOs. There's a reason why it was called Philip Morris Companies Inc. In addition to the U.S. and international tobacco business, Philip Morris owned Kraft Foods and still owns its original stake in the Miller Brewing company that became SABMiller, and now Anheuser Bush Inbev SA (NYSE:BUD).
There are many layers to this. For an idea of the complexity, just take Kraft for an example. After Philip Morris bought Nabisco Holdings, it combined General Foods, Kraft, and Nabisco Holdings into one company called Kraft Food. Then there was the IPO of Kraft in 2001, its spin-off in 2007 and a split in two companies in 2012 with the other half becoming Mondelez International. At the time, the value of the spun-off Kraft shares was almost 24% of Altria's total value prior to the spinoff, leaving Altria subsequently about three-quarters as large as it had been.
Then in 2015 Kraft was acquired by Heinz. Then I have to calculate the appropriate cash dividend from all the subsidiaries because Philip Morris International was spun off too and in this case Altria was the much smaller company. This can be a messy exercise. What's clear is that long-term shareholders of the Altria Group have been very well rewarded. Even though that over time, Kraft and Philip Morris have rewarded their shareholders in their own unique ways, for simplicity's sake, I focused solely on the Altria Group even though the "full complete" investment performance would be much higher.
Today you can follow many of Philip Morris' companies:
Altria Group Inc. is the original company and subject of this article. It's the U.S. tobacco business and many other companies mentioned at the beginning of the article.
In 2008, Altria Group spun off its non-US tobacco business, Philip Morris International (NYSE:PM) to its shareholders. Altria investors received Philip Morris shares on a 1-for-1 basis. Philip Morris was actually the much larger offshoot, with Altria representing barely 30% of the value of the two companies. The reason for the split was to set free the faster-growing overseas operations while the U.S. business was entangled in smoker lawsuits. It markets and sells its products in approximately 180 countries.
Kraft Food is now The Kraft Heinz Company (NASDAQ:KHC). Mondelez International (MDLZ) is still a standalone company. The IPO was in 2001 and was the spin-off in 2007.
The Miller Brewing Company became SABMiller and is now Anheuser-Busch InBev SA/NV (NYSE:BUD). Altria owns almost 10% of the newly merged company.
Unfortunately, when it came to calculating its performance, I couldn't go back all the way to 1919 when it was first publicly available to the public and was majority owned by the Tobacco Products Corporation. I spoke with investor relations and they didn't know what their investment return was since 1919. However, they did refer me to a paid service that might find out for me but I refused to pay $25. So I had to use the data available to me.
The earliest I could go back is November 23, 1970. That's as far as Altria would go. However, historical closing prices and dividend payments for Altria dating back to the early 1970s are available on Yahoo Finance. That's fine since we can reasonably assume that a long-term shareholder wouldn't have acquired his shares in 1919. That's also essentially a working lifetime. However, it's reasonable to assume that one could have held shares for twenty or thirty years.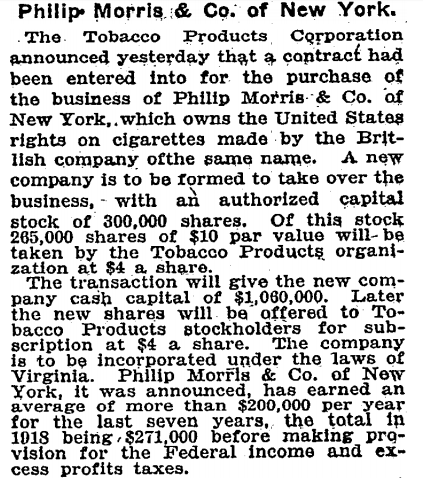 Source: Buy Out British Interests; Tobacco Products Get Control of Philip Morris & Co. of New York. New York Times, February 14, 1919
You can read the full article here on Seeking Alpha.
Continue reading "Altria Group Inc. – One Of The Best-Performing Stocks Ever" →