Latest article on Seeking Alpha. It's a big success and I received a lot of great comments. In this article I look back at Microsoft and how much money it made for its shareholders.
Here's a preview. For the full article you can read it directly on Seeking Alpha here (free).
---
Reposted from Seeking Alpha
By Brian Langis
Summary
Microsoft is a 791-bagger since its IPO in 1986.
Is there a company that created more millionaires and billionaires?
Satya Nadella is reinventing the company. Provides vision and a new shift in the direction of the company.
While Microsoft struggled to remain relevant, it's never struggled to remain profitable.
I'm a big fan of history and business. Combine both of them and you have quite a passion. While researching companies that became multibagger, I had a lot of fun writing a piece on Apple (NASDAQ:AAPL), Apple Computer's IPO, on how it made its shareholders 205-times their money (not including dividends). My favorite part of the article was the comment section. I loved reading comments on how some got wealthy because they "forgot" they owned Apple. I told myself I would write more of these articles when I had the time. Multibagger is a term popularized by Peter Lynch, author of One Up on Wall-Street and a manager at the Magellan Fund at Fidelity Investments from 1977 to 1990. Peter Lynch often uses the term "10-bagger," which is when a stock goes up 10 times in value.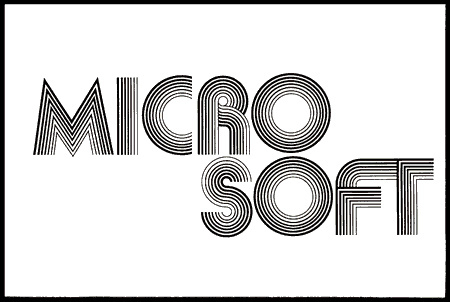 Microsoft's first logo
Now I turned my attention to another iconic company, Microsoft (NASDAQ:MSFT). For the new generations of investors, you might not understand some of the obsession the "older" investors have with Microsoft. When Windows 95 came out, geeks were lining up at midnight around the block outside technology stores. Yes people did that for Microsoft too. The Empire State Building was lit in Microsoft's colors. Microsoft really changed the world for a better place. Microsoft dominated the tech industry and it was the wealthiest corporation in the world. Microsoft is the standard when it comes to massive investing success. You probably heard the saying "I want to find the next Microsoft." Although it's slowly getting replaced with "I want to find the next Google." Of course, Microsoft has been the butt of jokes. Many people associate Microsoft with consumer product flops and the blue screen of death, but despite some its flaws, if it wasn't for Windows and Office, I wouldn't be writing this article.
Is there a company that created more millionaires and billionaires (Bill Gates, Paul Allen, Steve Ballmer, Charles Simonyi) than Microsoft? It is said that Microsoft employs more millionaire secretaries that any other company in the world. I don't know how accurate those statements are, but there's no doubt that Microsoft made a lot of people very wealthy, both insiders and outsiders. A 2005 article from the New York Times claims that there were approximately 10,000 Microsoft millionaires created by the year 2000. Early programmers who accepted stock options as part of their compensation became millionaires at a very young age. As for the billionaires, Bill Gates is trying to save the planet with his foundation, Paul Allen owns three pro sports teams, Steve Ballmer owns the LA Clippers, and Charles Simonyi, the guy who oversaw the creation of Microsoft Office, is a space-obsessed billionaire. Here's another New-York Times article from 1992 on the subject, Microsoft's Unlikely Millionaires.

Source: Google Finance
If you had the good fortune to have bought 100 shares at the $28 (closing price, assuming you couldn't get on the IPO), for a total investment of $2,800, today your investment would have mushroomed to 28,800 shares at $57.79 worth more than $1.66 million. That's a 59,186% return without calculating the dividend. With the dividend reinvested, your returns goes up to $2.5 million for a juicy 89.5% return. If you are one of the lucky ones and happened that you need to calculate your returns, Microsoft was kind enough to provide a calculator to calculate your riches (in Excel, of course).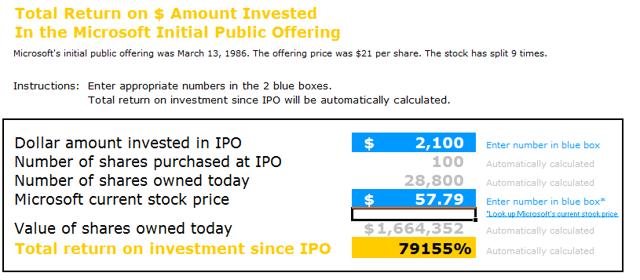 Microsoft IPO returns calculator in excel.
Assuming you held the stock since the IPO, Microsoft delivered a 791x bagger! You bought it the next day at $28; you would have made 592 times your money without including the dividends. If you guys know of a stock that made its shareholders more money please share.
Thanks for reading, full article at Seeking Alpha