My latest update on NAPEC (NPC). It's been a year and a half since my last article on NAPEC. I got over the latest developments and a re-assessment of the valuation. NAPEC has now turned the corner on their troubled past and operations have been improving. and I still believe that NAPEC is undervalued.
Below is a small sample of the article since Seeking Alpha has the rights to it. It's free for the next thirty days.
---
Repost from Seeking Alpha
By Brian Langis
Summary
NAPEC is a former turnaround situation that is still trading at a bargain.
Backlog and revenues are at an all-time high.
It's time to re-assess NAPEC. The company's intrinsic merit is unrecognized by the financial community.
This is a mispriced security with a large gap between current price and value. There are many catalysts that could "wake up" the stock.
The market overreacted to the Q2-2016 guidance miss.
Author's Notes:
CVTech Group officially became NAPEC Inc. (OTC:CVTPF, TSX: NPC) in September 2014. Throughout the article, NAPEC Inc. can also be referred to as NPC, CVTech Group, or the Corporation and its subsidiaries such as Riggs Distler and Thirau Inc.
NAPEC Inc. is primarily traded on the Toronto Stock Exchange under the sticker NPC. In the last ninety days, NPC has an average volume of 139,322 shares with an average daily value of $152,623.
Note: Dollar amounts are in Canadian $ unless mentioned otherwise. USD-CAD 1.32 Price of 1 USD in CAD as of September 20, 2016.
Intro
This is my third analysis of NAPEC. The first two were over a year and half ago. At the time, NAPEC was going through some major changes. This is an update on the progress and valuation of the company. To understand where NAPEC is today, it's important to understand how it got here.
My first article, "NAPEC Inc: 30%-40% Upside In Potential Turnaround," published on March 11, 2015, offers an in-depth analysis of NAPEC. It's a long detailed article that explained the turmoil and the changes that followed. If you have a PRO membership, I suggest you start with this one. "The NAPEC Turnaround – Mispriced Security Offers A Lot Of Upside" provides an update on my original thesis. This article is free for access.
Below is a chart of NAPEC since my original publication: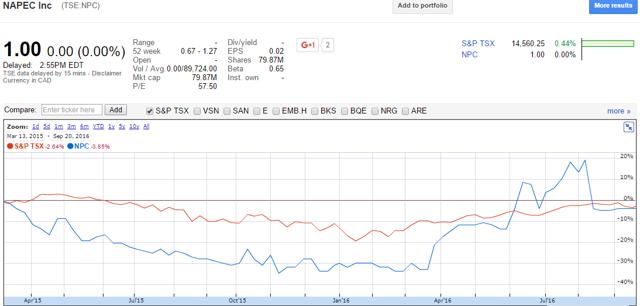 Source: Google Finance. NPC -3.85% versus S&P TSX -2.64% from March 13, 2015 (original publication date) to September 20, 2016.
Since my initial article, NAPEC went through a major slump for no apparent reason. As often is the case, especially in the microcap orbit, nothing material occurred with NPC that caused the stock to drop to $0.68 in November 2015; Mr. Market just decided he liked NAPEC 34% less than he did in Q1-2015. Then again, on no particular news, NAPEC stock price managed to rebound from its trough to hit $1.27 a month ago. The trough to its peak represents an 89% gain! On August 11, 2016, NPC released its Q2-2016 results, and the stock dropped 16.6% in one day. NPC stock price has been floating around $1 since. Here's the part that's sometime hard to grasp: the $1.27 NPC, the $0.68 NPC, and the $1 NPC is the same company. There was nothing fundamentally different in NAPEC that would suggest an 85%+ price range movement. The intrinsic value of NAPEC didn't change that much; if anything, it went up. This brings me back to The Intelligent Investor by Benjamin Graham. In this famous book, Graham states that a stock is not just a ticker symbol – it's an ownership interest in an actual business, with an underlying value that does not depend on its share price. The market is a pendulum that forever swings between unsustainable optimism (which makes the stocks too expensive) and unjustified pessimism (which makes them too cheap). For more information on Graham and market fluctuation, I invite you to read Chapter 8 from The Intelligent Investor.
Before I state the investment case, here's a brief overview of NAPEC.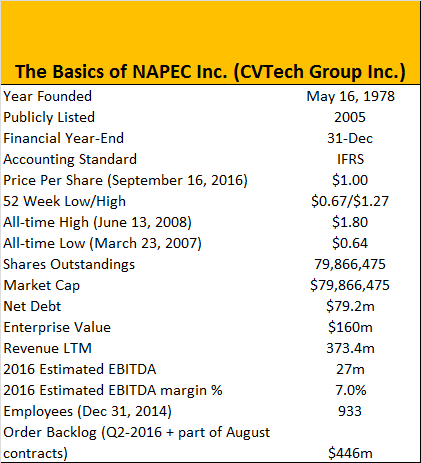 NAPEC stands for North American Power and Energy Corporation. The new name was adopted by the company in September 2014, after being known as CVTech Group for many years. NAPEC operates in the energy sector. It provides construction and maintenance services for the electricity and heavy industrial markets. The company operates in Québec, Ontario and the northeast United States. NPC builds and maintains electrical transmission and distribution grids, as well as networks for gas utilities. In addition, it installs gas-powered and electric-powered heavy equipment for utilities, gas-fired industrial power plants, and petrochemical facilities in North America.
For the full article click here.