One of my most popular article to date on Seeking Alpha. It's was a top trending article for two day and it has received a lot of good comments. I'm proud of the achievement but again any article on Apple, Facebook, Google, or the cool stock of the moment will get you trending. It's great, but it also goes against what Seeking Alpha is about, which is shining a light on companies with limited or no coverage. SA still serves that purpose and it's great for that, but it's still hard to get attention sometimes on little unknown companies. Apple has so many analysts so I'm not sure why people bother writing articles about it on SA. There are so many companies that are bargains but nobody has never heard of them.
Anyway here's a preview of my article on Apple's IPO. The full article is free on SA. I suggest you go read the comments. There's a lot of good stuff there. It's almost like a trip down memory lane for so many people.
Enjoy!
---
Apple Computer's IPO
Summary
Apple was a 205-bagger from 1990 to today (3-17-2016), without calculating dividends.
But you needed an 80% loss twice in order to get it.
Not your classic buy and hold fairy tale.
I'm a big fan of history and business. Combine both of them and you have quite a passion. While reading on what makes companies into multi-baggers, Apple Inc. (NASDAQ:AAPL) came up. I started researching old documents on Apple Inc. which eventually led to the IPO. I wanted to know, what at the time, made Apple a multi-bagger. Multi-bagger is a term popularized by Peter Lynch, author of One Up on Wall-Street and a manager at the Magellan Fundat Fidelity Investments from 1977 to 1990. Peter Lynch often uses the term "10-bagger," which is when a stock goes up 10 times in value. I hope I'm not shocking anyone by stating the fact that Apple qualifies as a multi-bagger. Actually Apple is a multi, multi-bagger. My research led me to the Apple IPO, which was pretty interesting itself. So I decided to make an article out of it to share some of my research and findings. I might write an article on multi-bagger companies later. At today's price of $105, Apple is a 205-bagger plus from 1990 to today, without dividends. For those who observed Apple's share price from outside, the stock performance seemed to be an unbeatable machine. However, a closer look would reveal that it wasn't always a fantastic engine.
In 1977, Apple Computer (now known as Apple, Inc.) was a very different company and Steve Jobs was a very different entrepreneur. Apple had its IPO in 1980 which I review in detail below. By looking at Apple's stock price today, around ~$105 post-split, investing in Apple at the beginning would have looked like a no-brainer. You always hear people saying that if they bought Company X when it first came out, they would have been multi-millionaires today. The real story for early Apple investors, however, wasn't all sunshine and rainbows. This is not your classic "buy and hold" fairy tale. If you would have bought Apple at the beginning and held on to it, you would have been clinically depressed for a good part of your life, unless you get joy out of pain. I did open my article by mentioning that Apple is a multi-bagger, but you needed an 80% loss twice in order to get it.
First, let's start with the IPO then I will walk you through the performance history.
The Successful IPO
*Price per share mentioned are pre-splits numbers unless mentioned otherwise.

Source: Clipping from The New-York Times, December 15, 1980 – By Vartanig G. Vartan – Business – Print Headline: "New Stocks Drawing Intense Investor Interest"
I like how the clipping above had to mention that Apple was a Californian company that makes personal computers. For part of the research, I have to thank the Computer History Museum and The New York Times archives for my research. The Computer History Museum has two special documents from Apple Computer during the early days of personal computing. The first is thePreliminary Confidential Offering Memorandum – a document supporting a private placement of funds for Apple before the IPO. The document also contains the product and marketing plan. Computer History Museum CEO John Hollar noted the plan also "goes to great lengths to explain why anyone would even want a personal computer (e.g., forecasting eight reasons "that indeed, by 1985, a household using a computer will have significant advantages over one that doesn't"), and that every single competitor listed is no longer in the PC business." And if you are really interested, the second document is thePreliminary Macintosh Business Plan, which is post-IPO.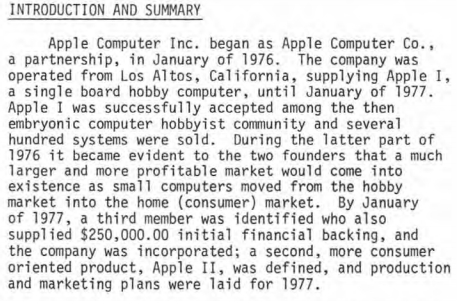 Source: Apple's Preliminary Confidential Offering Memorandum
Apple Computer Inc., now renamed Apple Inc., had its IPO (prospectus) more than thirty-five years ago, on December 12, 1980, with 4.6 million shares priced at $22 ($0.39 a share post-split). Since then the stock has split four times, including three 2-for-1 splits (1987, 2000, 2005) and recently one 7-for-1 split (2014). That means your 100 shares would have multiplied into 5,600 shares today, or 56 times your original holding. Apple raised $101 million. Apple sold 7.4% of the company of the 54.2 million shares outstanding at the time. On that day, the Dow soared 21.59 points to 958.79, staging its biggest one-day rally since spring 1980. The Dow jumped because of a surprise half-point reduction in the prime rate by Wells Fargo to 20.5%! (Yes, you read that correctly, interest rates were extremely high back then, don't ever forget that it could happen again).
During fiscal year 1980, Apple had sales of $118 million, up from 774k in 1977. Earnings also came at $11.7 million, or EPS of $0.24, compared with $41,575 or EPS of $0.01 in 1977. Now, think of how much Apple makes every minute. In 2015, Apple had sales of $233.7 billion and $53 billion in net income. Apple had a second offering of 2.6 million shares that quickly sold out in May 1981.
I found old news clipping below from The New York Times archives on Apple's IPO.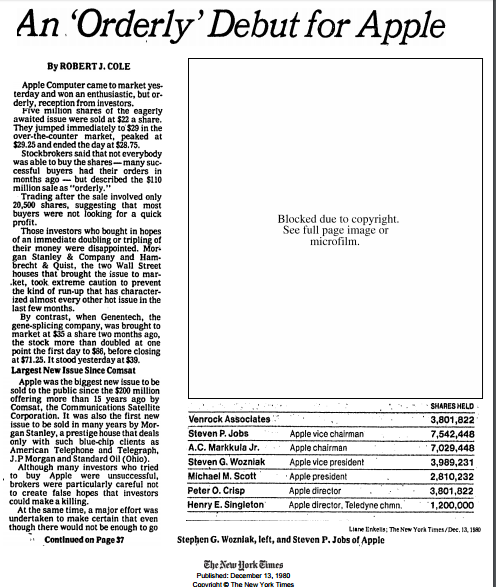 Source:The New York Times, December 13, 1980. First Business Page, Part 1.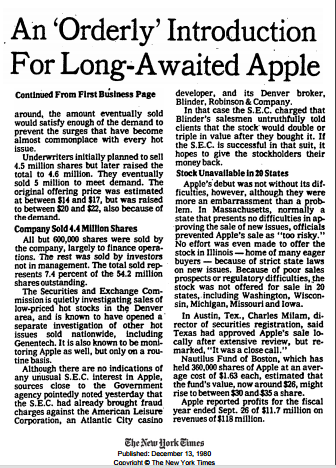 Source:The New York Times, December 13, 1980. Page 3 of the Business Page, Part 2.

Source: The New-York Times, Business Digest, Saturday, December 13, 1980.
As the article states, the IPO was a major success. The shares jumped immediately to $29, peaked at $29.25, and closed at $28.75. The offering happened to be the largest IPO in 15 years at the time since Comsat (side note: Comsat is the same company that owned the Denver Nuggets from 1989 to 2000, and bought the NHL Quebec Nordiques and moved them to Denver as the Colorado Avalanche. Comsat was acquired by Lockheed Martin Corp. (LMT)). The original offering was estimated at between $14 and $17, but due to strong demand was raised to $20 and $22.
Sorry, to cut you short, the full article is on SA or they will ask me to take it down. Thanks.