Latest article on Seeking Alpha. Below is a sample since Seeking Alpha has the rights. The article is free for for a month before the paywall us up. Enjoy!
---
Reposted from Seeking Alpha
By Brian Langis
TSX: CKI
U.S.: CLKFF
Clarke Inc. is primarily traded on the Toronto Stock Exchange under the sticker CKI. Last thirty day trade value is approximately $93k per day.
Note: Dollar amounts are in Canadian $ unless mentioned otherwise. USD-CAD 1.3371 Price of 1 USD in CAD as of November 29, 2015.
Part of my writings is to shine the light on companies that deserve more attention. My most successful investments are usually found in places where nobody is looking since this is where you get the best deals. I believe that Clarke Inc. (OTC:CLKFF) is a company that deserves to be on your investment radar. CKI is a company that people will talk about one day after making a huge successful deal and they will wonder why they haven't heard of it in the past (CKI is too small for analysts and institutional investors).
Clarke Inc. is an investment holding company based out of Halifax, Nova Scotia. Don't let the Halifax part fool you. After all, isn't Berkshire Hathaway (NYSE:BRK.A) (NYSE:BRK.B) run from Omaha. For the skeptics, CKI has an office in Toronto; it's where the deals flow in Canada. CKI is company with a ~$155m market cap, trading at ~0.8x book value and provides a 4% dividend yield. Clarke Inc.'s Chairman is George Armoyan, a colorful activist value investor in Canada. CKI describes itself as an activist catalyst investment company with a diversified portfolio of strategic and opportunistic investments. More often, Clarke seeks active involvement in the governance and management of the company which it invests with the goal of improving the underlying company's performance and maximize the company's value. For this research, I have not spoken to George Armoyan, but I spoke to Michael Rapps, the CEO.
This is a brief rundown on how Clarke Inc. usually operates. CKI starts accumulating shares of a target company, mostly mid-size companies so far, those with a stock market value of around $50m to $150m. Then when it crosses the 10% threshold that requires CKI to publicly disclose its holding, the company demands seats on the target's board of directors and input into management. The goal is to gain control and then engineer a turnaround and generate a profit.
A quick look at Clarke Inc.'s investment portfolio is not pretty. It's not supposed to be. That's the key to its superior returns. I looked at past Clarke investments and none of it was sexy. Every investment Clarke Inc. made money on in the past didn't have a sign pointing that's going to be the next big money maker. It's still the case today with its current portfolio; it's not composed of stocks everybody likes to buy. Following the trends that are popular isn't a formula for success and CKI definitely knows that. If you want a real bargain, you have to look where nobody is looking, where there are problems, and where there's blood on the street. Most people simply don't know how to find it and or they simply don't have the spine to go through with the investment.
Like most stocks, Clarke Inc. took a beating during the recent downturn and now provides an interesting entry point to build a position. CKI was trading at a peak of $12.30 in July to fall where it's currently trading at now, around $9.90. The slump represents a 20% fall from its peak. The table below is five-year chart of CKI's stock price. You will notice the stock was mostly flat until late 2013 and had a run-up that more than doubled the share price. There's a reason for the run-up which is explained below.
(click to enlarge)

Source: Google Finance. CKI 5-Year Chart. CKI is up 136.8% vs. 3.85% for the S&P TSX.
Regarding holding companies, aside Berkshire Hathaway and Power Financial Corp. (OTCPK:POFNF), I don't own any other investment holding companies even when they trade at a significant discount to book value. I have seen the compelling investment thesis; the sum-of-the-parts are much higher than market value, you get this part of the business for free, it trades for less than cash etc…and despite all the great reasons to own the "cheap" stock, the price barely moves. I find that most holdings companies are asleep and there's a lack of action to unlock value. There are exceptions and I'm generalizing the sentiment. I have been following many investment holding for years out of curiosity, and most of the time nothing happens, like Power Financial Corp., where the stock price hasn't gone anywhere in a decade (but at least it distributes a dividend).
Clarke Inc. is a different investment holding. The company is pro-active and cares about its stock price. In the last two years, Clarke has demonstrated that it wants to close the discrepancy between quoted value and intrinsic value, as demonstrated by the run-up in the stock price for that period (see previous chart above). To achieve those superior returns, the team running Clarke have divested the company of some of its private holdings. Turning these assets into cash has helped close the gap between market price and book value. Then the company modestly raised its dividend from $0.06 per share to $0.08, and now $0.10 per share. The current dividend yield of ~4% certainly attracts more investors, such as your income-oriented class. CKI has also been very aggressive at buying back its share, with $40m in repurchase in the first half of 2015 alone. Clarke has fully redeemed its debentures and has eliminated its debt. The company also decided to regularly put out presentations to make the case for investing in its stock. These are some of the different initiatives the company has put together to raise its profile among the investor community. The combination of actions shows that the CKI cares about its stock price.
Here's Clarke's mission and business operation:
Clarke is an investment company. Our objective is to maximize shareholder value. While not the perfect metric, we believe that Clarke's book value per share, together with the dividends paid to shareholders, is an appropriate measure of our success in maximizing shareholder value over time.

We attempt to maximize shareholder value by allocating capital to investments that we believe will generate high returns and reallocating capital over time as needed. In doing this, Clarke's goal is to identify investments that are either undervalued or are underperforming and may be in need of positive change. These investments may be companies, securities or other assets such as real estate, and they may be public entities or private entities. We do not believe in limiting ourselves to specific types of investments. From time to time, Clarke will invest passively in a security where it believes the security is undervalued and there is no need for change or where it believes the security is undervalued but that the management team in place at the underlying company is doing an appropriate job to reduce the undervaluation."
I don't usually buy into these nice scripted mission statements and you shouldn't either. It's a given that every company says their objective is tomaximize shareholder value. However, Clarke Inc.'s actions lead me to believe that it stands by what it wrote. The first part of the statement is generic boilerplate statement. It's the second part that's retained my attention. In the second part, the key statement is "allocating capital to investments that we believe will generate high returns and reallocating capital over time as needed." This statement reminded me right away of the excellent investment book by William Thorndike, The Outsiders: Eight Unconventional CEOs and Their Radically Rational Blueprint for Success. The book demonstrates CEOs who created exceptional long-term value because they excelled at capital allocation. For CKI, as an example, excellent capital allocation decision is buying back shares when it's trading below book value.
At the moment, being an activist investor is the approach du jour on Wall-Street but not in Canada. Activism is more looked down upon in Canada than the US. The approach of ruffling feathers when things go bad is heavily criticized which fuel the negative perception of activist investing. It seems that all activist investors are being lumped together, good and bad. However, I believed there are two kinds of activist investors, the ones with a long-term approach like ValueAct and Nelson Peltz, which have proven to create shareholder value over time and the ones with a short-term approach, which are usually value destructive because they focus on short-term gain at the expense of the long-run performance. George Armoyan and Clarke Inc. were activist investors before it was a cool word. Mr. Armoyan's track record has proven that he can work positively with the management team, make changes that are beneficial to shareholders, and have a positive impact on rational capital allocation over time. My point is that he's not another guy getting on the activist bandwagon. Mr. Armoyan is not a trend.
You can copycat Clarke Inc. by investing in the stocks that the company holds. However, you would enter your position at a higher price than Clarke Inc. did because once it obligated to reveal a position, the herd jumps in and the target company's stock price shoots upward. The better option is ignore the herd and to buy shares of CKI. At a discount, you will have the same exposure than buying the stocks on your own, benefit from an excellent owner-operator, receive a dividend, and benefit from Clarke Inc. buying back its shares. In the last five years, the latter seemed like a good strategy. I am convinced that Clarke's underlying businesses have value that far exceeds where the public market values them.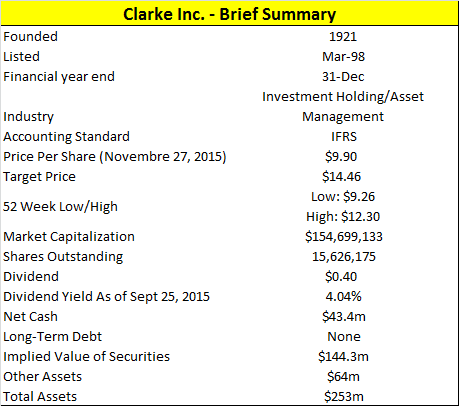 About Clarke Inc.
Clarke Inc. was a family business founded in 1921 and its IPO was in 1998. Today's Clarke Inc. has nothing in common with the original company. Clarke Inc. used to be in the transportation industry and there's no more link to the original founding family. Clarke Inc. was an underperforming trucking company that George Armoyan took over in 2003 through his private investment vehicle, GeoSam Investments (named after his two kids, George and Sam). He changed management and redirected cash flow through different investments. Clarke Inc. sold its transportation and logistics service to TransForce in 2013. Clarke Inc. used convertible debentures to fund it buying spree and has since redeemed all the convertible debentures. Below is a graph of the brief corporate history since Armoyan got involved.
(click to enlarge)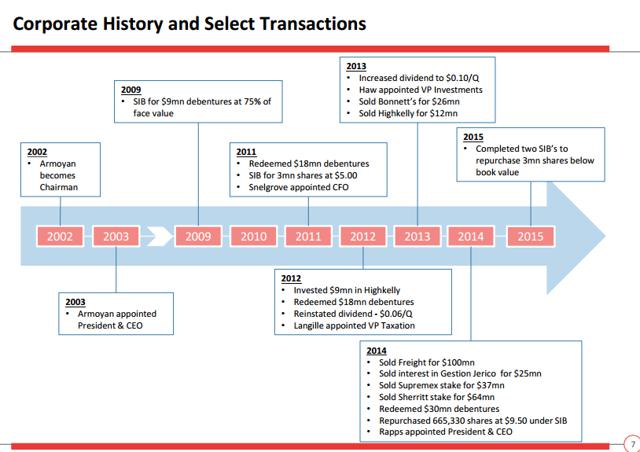 Clarke Inc. is patient. The company doesn't mind sitting on cash until it finds the right target. CKI only deploy capital when it has real conviction that it has found a solid idea. When it doesn't find interesting ideas, it holds cash.
When I spoke to Michael Rapps, he told that Clarke Inc. will not limit itself to any sectors and it will go anywhere opportunities are. Its mandate is to make money. However, Mr. Rapps told me that they have a "no" list. They don't invest in mining, tech companies, and pharma among other things. They have a penchant for real assets, such as real estate, things that can be monetized and provide downside protection.
The full article is accessible on Seeking Alpha here.