Movado Group (MOV), the luxury watch maker, is the subject of my latest research published on Seeking Alpha. I make the case that Movado is currently undervalued vs its peers and that the Apple Watch threat is much milder than expected. Movado has a rock solid balance sheet with net cash, a diversified pipeline of products, is increasing sales and improving margins, and is aggressively buying back shares. The company also distributes a small dividend.
---
Summary
Rock-solid balance sheet with $148m in net cash.
Movado trades at 4.9x next fiscal year EV/EBITDA (FY2017). MOV trades at lower multiple than its peers.
The Apple Watch turns out to be a much milder threat than expected.
Movado is an asset-light business. It doesn't manufacture watches. It's a cash-rich business.
Movado is aggressively buying back its shares.
Movado Group (NYSE:MOV) is one of the world's premier watchmakers. Movado Group designs, sources, markets and distributes fine watches in almost every major category comprising the watch industry. You have seen some of its many well-known brands. Its portfolio of brands currently comprises core brands such as Concord, Ebel, ESQ Movado and familiar fashion licensed names as Coach Watches, Scuderia Ferrari Watches, HUGO BOSS Watches, Juicy Couture Watches, Lacoste Watches, Movado, and Tommy Hilfiger Watches. The watches are fabricated through independent contractors in Switzerland and Movado is headquarted in Paramus, New Jersey.
Movado is an American company, but has the majority of its watches manufactured in Switzerland and it has been a tough year for Swiss watchmakers. For the past year, Movado's stock price has taken a major fall. Movado is under attack on two different fronts, technology and the rise of the Swiss franc. China's recent stock market turbulence also took its toll on the stock. The introduction of the Apple Watch, combined with a surge in the Swiss franc, have sent Movado stock price from the $40s to a low of $21.42. But the single largest factor behind the decline is due to Apple (NASDAQ:AAPL) entering the Smartwatch industry. Apple is casting a giant cloud over the entire industry. Apple has a history of disrupting and dominating an industry once it enters (iTunes, mobile, tablets, you name it etc.).
"Apple Watch is the most personal device we've ever created. We set out to make the best watch in the world," said Tim Cook on September 9, 2015 during the Apple Watch announcement.
(click to enlarge)

MOV 5-Year Chart. Source: Google Finance
According to the five-year performance chart above, the stock has seen better days. In November 2013, Movado hit a peak of $46.88 per share and traded in the $40s range weeks before the Apple Watch announcement. The stock has been on a downward trend most of the year to hit a low of $21.42 in August. The stock has since recovered with the release of good Q2 results on August 27, 2015. By looking at the graph, you might wonder about certain sharp fluctuations. The severe drop in November 2014 was due to disappointing Q3 results and revised downward guidance. However Q4 2014 results turned out above the revised guidance and the stock picked up to $30 to only make its way down afterward. YTD the stock is down -4.37% and the 1-year return is down -20.35%.
Apple's entry into watches is definitely a concern, but the Apple Watch turns out to be a much milder threat than expected. There's positive side to the Apple Watch story. First it got millennials interested in watches or at least talking about them. One needs to look at a company like Shinola, which prides itself on manufacturing its watches in Detroit; it's a major hit among hipstersand I should mention that the company's watches are good old quartz ones, not smart. Swatch Group AG (OTCPK:SWGAY) said the company has been trying to sell its smartwatch since 2000. Now that Apple is there, demand for Swatch's smartwatches has boosted. Second, concerns about smartwatches are driving innovation across the Swiss industry, which could help longer-term sales. Most brands are coming out with some kind of wearable/smart device. Some will be hits, some will be mostly misses. However, this innovation will plant the seeds for the future of the industry. There will be trickle-down effects and lead to better products down the line.
Movado doesn't have significant exposure to Asia, with only 8% of net sales. The U.S., a strong and growing watch market, is responsible for 55% of Movado's sales. Swatch Group AG, probably Movado's most comparable competitor, has a lot of exposure in Asia. Swatch posted a 20% drop in first-half profit, and noted weaker demand from markets, such as Hong Kong, but net sales increased 2.2% to 4.19 billion swiss francs from 4.1 billion swiss francs. Updates from the Compagnie Financiere Richemont (OTCPK:CFRHF) and Prada (OTCPK:PRDSY) were better than expected, despite the turmoil gripping China. Basically this is saying that China's thirst for luxury goods is still there.
There are many things that I like about Movado. It is a business that has good or improving economics, and often generates sales and profits in multiple jurisdictions. Movado is cheap. It is attractively valued at 4.9x next fiscal year EV/EBITDA and a price to earnings of 11.3x (detailed valuation below). The balance sheet is mostly cash and inventory. The company carries net cash of ~$148m. That's a lot of cash when your market cap is about $600m. At the moment, Movado is completing a $100m share buyback program. It's expected to continue to aggressively buyback shares with a renewed program in November 2015. Usually when you buy 10%-15% of the float, it should fuel EPS higher. Movado trades at 1.3x book value and no value is given to its own brands. Movado's brands – Ebel, Concord, ESQ, and Movado – are given no intangible value on the balance sheet. They are obviously worth something on the open market, since they bring so much cash to Movado. The business model is asset-light, because the capital intensive process of manufacturing watches is done by somebody else. The latest quarter revealed that the Apple Watch threat was overblown. Sales were up 1.4% over the same quarter last year, and that's taking into account a $6.8m hit because of the currency fluctuation. Movado also maintained its full-year guidance for this fiscal year. As for the smartwatch threat, Movado is entering the arena in Q4 with its own "smart" device.
And last, I'm not a watch connoisseur but I really like the look of the classicMovado Museum style. I find a lot of watches to be jam-packed with info and too crowded (Movado has those too). I just need a watch that looks good with a suit or to go out to a dinner, not a tool to control a space station. It's clean, simple, and elegant. There's an intangible there. Movado watches looked great forty years ago, look great today, and will look great in forty years.
(click to enlarge)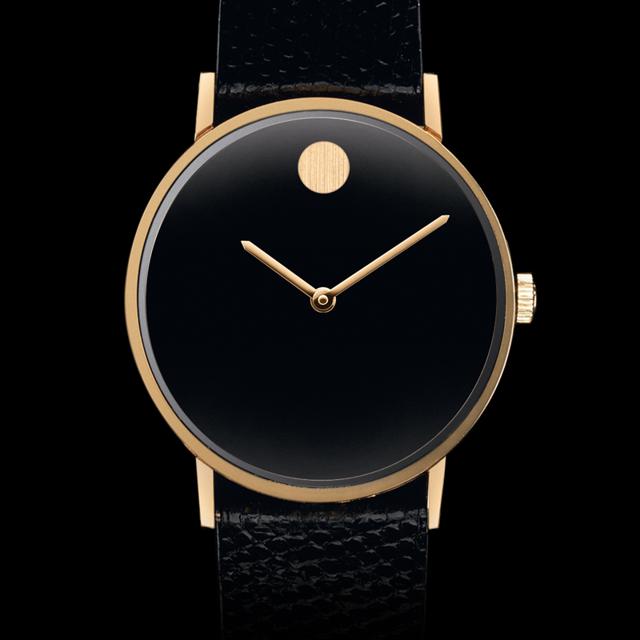 Movado Museum designed by artist Nathan George Horwitt in 1947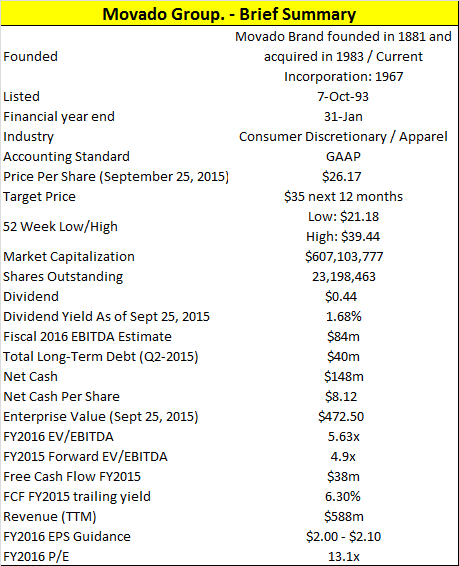 You can read the complete research and the valuation on Seeking Alpha (they have the rights to the article.