Reposted from Seeking Alpha
By Brian Langis
Summary
TransForce, Inc. is one of the largest logistics and transportation companies in North America and the leader in Canada.
The company generates strong, growing free cash flow. It's actively repurchasing its shares.
Alain Bédard, the CEO, is a wise capital allocator.
TFI should benefit from the weak Canadian dollar and the growing U.S. economy. Exports in Quebec and Ontario have started to pickup.
TransForce fell 27% since management slightly lowered guidance.
TSX: TFI
U.S./OTC: TFIFF
TransForce, Inc. is primarily traded on the Toronto Stock Exchange under the sticker TFI (Editors' note: with average daily volume of ~$CAD 6.5-7M)

Note: Dollar amounts are in Canadian $ unless mentioned otherwise. USD-CAD 1.3094 Price of 1 USD in CAD as of August 21, 2015.
TransForce, Inc. [TSX:TFI]; (OTCQX:TFIFF) is a company that I've been following for many years, and the recent drop in the stock price finally provided the entry point I was looking for.
TransForce is one of the largest logistics and transportation companies in North America and the leader in Canada, which was achieved mainly by acquisitions (it has acquired over 140 businesses since 1998). The company's main operating segments include Package and Courier, Less-Than-Truckload (LTL), Truckload (TL), Waste Management as well as Logistics and Other Services.
Investors have been dumping TransForce mainly because management has lowered guidance due to economic concerns in Alberta and the lack of economic pickup in Ontario and Quebec. On top of that, the market is in a correction. Regarding the weak Canadian economy, when a currency devalues there's usually a lag between the drop and a revival in exports. Latest data suggest that Ontario and Quebec are starting to see the benefits of the low dollar. Trade numbers from June 2015 suggested exports are up versus the same period in 2014. Exports are up 15.2% in Ontario, 11.8% in Quebec, and Canada as a whole is up 6.3%. Most of the increase in exports is led by sales in the U.S. which directly touch TFI.
For 2015, management now expects adjusted earnings per share to be in the range of $1.97-$2.12, down from its earlier projection of between $2.15 and $2.30. Revenues are revised down to $4.3b; adjusted EBITDA is revised down to $510m-$530 from $550; and free cash flow should exceed $300m. From the EPS guidance's midpoint to midpoint, that's an 8% revision downward. However, the market didn't digest the revised forecast well. TransForce's YTD return is down 17% and is off 27.4% from its 52-week high of $31.60.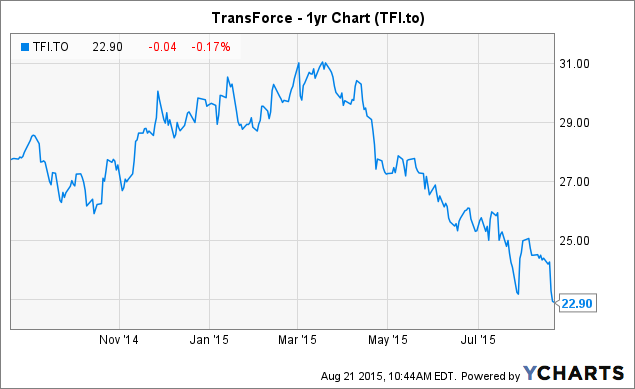 TFI data by YCharts
Investment Thesis
TFI is a stock you should have on your buy list, and it's now for sale at an attractive valuation. TransForce is a serial acquirer in the highly fragmented trucking industry and is currently taking a pause to digest some massive acquisitions in 2014. As it grows, the company looks for ways to cut costs and make its operations more efficient in a bid to boost margins.
TransForce is a catalyst-rich name led by Alain Bédard, Chairman and CEO, who has proven to be a wise capital allocator. TFI generates growing free cash flow; it distributes a growing dividend; it's active on share repurchases; and it has near-term catalysts. The company is well positioned to take advantage of the weak Canadian dollar and a recovery in the Canadian economy when that day comes. After all, a weak CAD and a growing U.S. economy should stimulate imports from Canada. TFI gets approximately ~30% of its sale in the U.S. and there's plenty of room for growth since the U.S. economy is continuing to expand and trucking companies have had to keep up with the ever-growing freight demand.
"If we want to be at C$5 billion, it's going to have to be south of the border…For sure over the next few years our growth will be mostly in the U.S." – Alain Bédard in a Bloomberg phone interview in 2012
The average exchange rate used to convert TransForce's business generated in U.S. dollars was $1.2297. Today, the USD/CAD is around $1.31, a 6.5% rise, which should have a positive impact of a few million on sales and EBITDA.
"The relatively healthier U.S. economy and weaker Canadian dollar should provide more favourable conditions to improve return on capital employed on both sides of the border." – Outlook in the Q2-2015 MD&A
Also, there are potential near-term catalysts. In the past, TFI has mentioned divesting its Truckload business and more recently its Waste Management business. The Truckload business is too capital intensive, and TFI prefers an asset-light business model. The Waste Management business with ~$195m in revenues in 2014 is a high-margin operation that could be sold to a strategic player in the medium term hence crystallizing its value (which is not being captured fully as part of TFI's operations). The Truckload business is also being discussed to be a spin-off. Alain said we should expect some kind of an announcement before the end of 2015.
Other catalysts are potential acquisitions. Acquisitions are part of Bédard's push to remake Canada's largest trucker into a continent-wide company selling transport, logistics and energy services.
My valuation doesn't take into consideration any spin-offs, acquisitions, or an economy recovery in Canada. If any of the scenarios mentioned occur, TransForce is worth north of my current valuation. In the short run, the company is worth $29.35 per share, which implies an upside of 27.9% excluding the dividend. While you wait, TFI distributes a growing $0.68 annual dividend per share at a yield of 2.9%, which sounds better than leaving your money in the bank.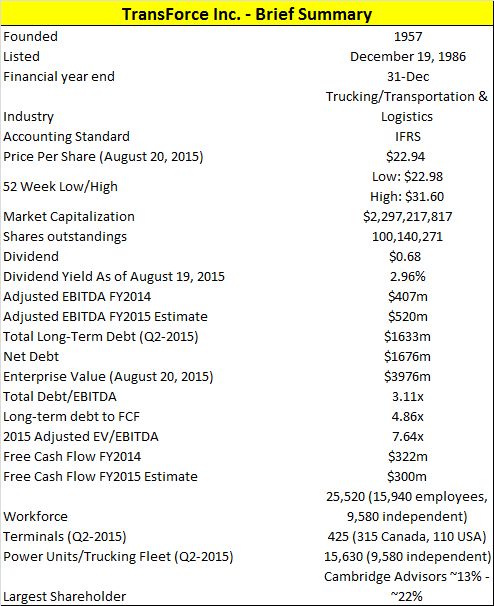 You can read the rest of the article here.